30 kinds of freshly baked bread based on authentic Greek recipes, 9 types of rusks, numerous biscuits, delicious bread sticks, traditional sweet pastries and breads like lychnarakia and tsourekia, as well as various flavourful cakes are daily available in Savoidakis Bakeries.
BREAD
Twenty years ago, we kneaded the first bread and precisely the Metsovo bread (rustic-type artisan bread). Nowadays, Savoidakis Bakery features more than 30 kinds of fresh Greek breads so that you can enjoy a great variety of tastes and styles. Country bread, Tabani, Pinakoti, bread of Thrace, bread of Pindos, rye, multi grain, corn, gluten-free or low-salt type are just some of the breads we bake with love for you.
RUSKS
Savoidakis Bakery and Patisserie features authentic Cretan rusks of high nutritional value and exceptional taste. Barley, barley and wheaten (migadi), rye, wheaten and self-kneading rusks are just some of the fluffy and crunchy rusks one can find in our bakeries. In other words, the finest traditional product of the Cretan nutrition is our specialty.
BREADSTICKS
Mediterranean, multigrain, spicy, barley-rye or sesame seed breadsticks are only some types of our variety. Fluffy, delicious, crispy and healthy, they are the ideal suggestion at any time of the day.
BAKERY GOODS
On a daily basis, our bakers prepare for you numerous bakery goods of fine quality and unique taste: kavourmas (sesame seed bread ring), anevato koulouri (cheese-filled bread ring), chocolate bread rolls, cereal bars, alongside a wide range of bread products. Every day, Savoidakis Bakery and Patisserie suggests nothing less than quality bakery products.
BISCUITS
Our pastry showcases look like jewellery shop windows: amazing and tantalising. That is to say, when entering a Savoidakis store and it comes to choosing, it is not easy to decide among all these appealing and delectable delicacies. Stuffed cookies or orange scented biscuits, chocolate or Sablés cookies, biscottinis stracciatella or tatin, chocolate-filled or almond biscuits, are some of the dilemmas. A great selection of biscuits of unique texture and flavour is always available to enjoy in our stores.
TRADITIONAL PASTRIES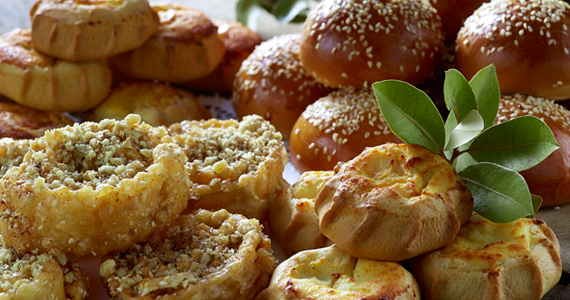 In our stores, you can find anytime scrumptious traditional sweets like anevata kalitsounia (sweet cheese pastries), lychnarakia (Cretan type sweet cheese pastries), xerotigana (honey-soaked fried pastries), Christopsomo (traditional buttery egg bread that literally means "Bread of Christ") as well as tsoureki (Greek Easter sweet bread) either the classic type or the one flavoured with mahleb and mastic. The most special Cretan flavours with the signing "Savoidakis Bakery and Patisserie".
CAKES
Fluffy and delicious, our orange, vanilla or chocolate scented cakes and muffins ideally accompany either your coffee and breakfast or your snack-break. Furthermore, our cupcakes garnished with colourful icing are so delectable that one could characterize them as the loveliest treats. They are just perfect.